BBC Kids to launch in Australia on Fetch. Nick Music also coming to Fetch.
Mar 22, 2021
Today, Fetch announces the addition of two new channels to its $6 / month Kids Pack.
BBC Kids will make its Australian premiere on the Fetch Platform on April 24th. Entertaining, energetic, unpredictable and clever, BBC Kids is a brand new channel that kids will love and parents can trust. With loads of exciting shows from comedy, drama and entertainment to natural history and documentaries, the channel is aimed at kids 6-10 and sits alongside the BBC's pre-school channel CBeebies in the Fetch Kids Pack.
Shows at launch include popular dance drama The Next Step, football drama Jamie Johnson, featuring cameos by some of the UK's biggest soccer stars; adaptations of David Walliams' hilarious best-selling children's novels Gangsta Granny and Mr Stink; Horrible Histories – the hit show that explores the side of history that they don't teach you about in school, Deadly 60 on a Mission with wildlife presenter Steve Backshall coming face-to-face with some of the world's deadliest animals and teenage spy drama MI High.
Today's announcement brings the number of BBC channels now available on Fetch to 7, with BBC Kids joining BBC First, UKTV, BBC Earth, BBC Brit, BBC World News, and CBeebies on the Fetch service. Fetch also recently added SVOD service BritBox, which is a JV between BBC Studios and ITV.
Sam Hall, Chief Content and Commercial Officer at Fetch TV, said: "Fetch TV is excited to be the Australian launch partner for BBC Kids, and to further extend our partnership with BBC Studios demonstrating our commitment to offering quality British content."
Tim Christlieb, Director of Branded Services, BBC Studios ANZ said: "We are delighted to launch this new virtual playlist channel on Fetch which fits perfectly with our pre-school channel CBeebies, offering a destination for older kids to enjoy a diverse range of programming all with the hallmark of BBC quality."
Fetch also announced the addition of Nick Music, which will launch April 24th, offering a dedicated 24-hour music channel for kids featuring chart-topping hits by the world's most popular artists.
From Ariana Grande and The Weeknd to Sia and Taylor Swift, Nick Music is curated by Nickelodeon with a line-up of the latest music videos and Top 40 hits kids will love.
Nick Music joins Nickelodeon and Nick Jr. in the Fetch Kids Pack, bringing the total ViacomCBS subscription channels on the platform to nine, including Spike, Comedy Central, MTV, MTV Classic, MTV Music and MTV Dance.
Sam Hall said: "Nickelodeon and Nick Jr. are the two top rating kids channels on Fetch. We are delighted to add another great offering from Nickelodeon, and are confident that Nick Music will fill a void in the market".
Beverley McGarvey, Chief Content Officer & EVP, ViacomCBS Australia & New Zealand said: "We know Aussie kids love music, so we wanted to create a safe place for them to be able to watch their favourite artists and listen to chart-topping hits from around the world, curated just for them. Nick Music is a channel kids will love, and parents can trust."
The new channels will be added to the $6 Kids Pack, as replacements for Cartoon Network and Boomerang, which exit the platform on April 23rd. Fetch continues to offer a great selection of leading channels at prices that are unprecedented in the Australian market.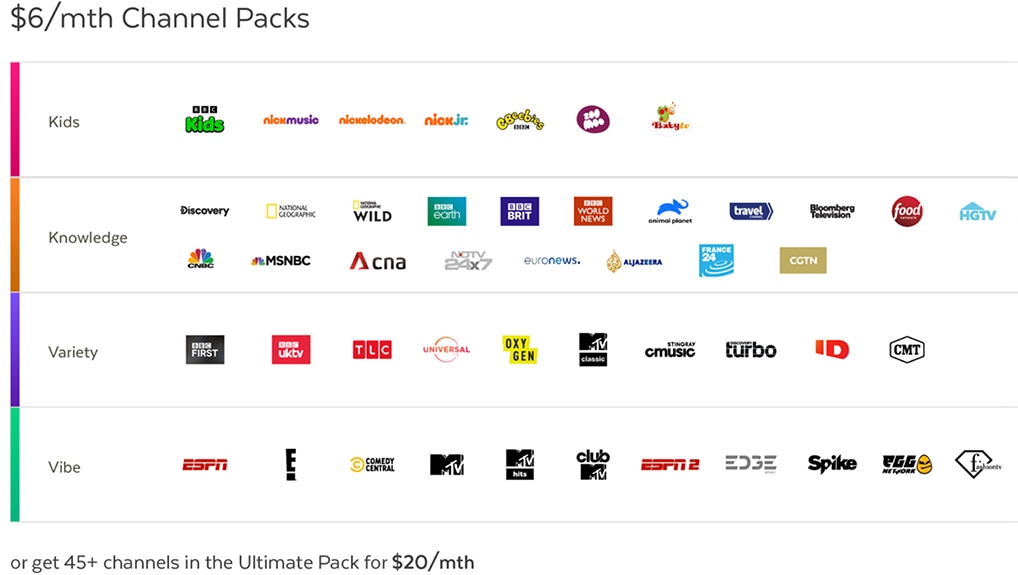 Scott Lorson, CEO of Fetch TV said: "As a master aggregator, Fetch continues to expand and enhance our content offerings to ensure that we are cater to all audiences and viewing
preferences. We recognise that Free-to-Air channels and BVOD apps, subscription channels, SVOD services, and transactional on-demand content are all critical to a complete content offering, and our focus remains on delivering on our consumer promise of "All your Entertainment, easy.""
About Fetch TV
Fetch TV partners with leading internet service providers Optus, TPG Vodafone (iiNet, Internode, and Westnet), and Vocus (Dodo and iPrimus) and Aussie Broadband along with leading retailers Harvey Norman, JB Hi Fi, Bing Lee and The Good Guys to provide subscribers with an entertainment service delivered to the TV over a broadband connection to a set top box. In addition to a 1 terabyte personal video recorder for recording TV, the content line-up includes an in-home movie store with over 9,500 titles including the latest new releases, a TV store with leading TV shows to purchase, leading SVOD services Netflix, Stan Amazon Prime Video, 10 All Access and hayu, Free to Air and subscription Catch- Up TV services, Pay per View access to UFC, apps including YouTube, as well as the option to add subscription entertainment channel packs from major content providers. Visit fetch.com.au for more information.
Press Contact for Fetch TV:
Sue Brenchley
+61 404 811 140 
sue@fetchtv.com.au